Brown Color Contact Lens Review Geo Angel XCM-214 Brown
Monday, August 26, 2013
Solution-lens.com Review – GEO Super Size Angel Brown (XCM-214)
"I'm near-sighted. I'm tired of wearing glasses. I need contact lenses in order to see. And what a coincidence, there's a sale on colored prescription lenses!"
Those were the words that I told myself when I first decided to get circle lenses 2 years ago.
Yeah right.
So what excuse do I have now that I own a collection of non-prescription lenses purely for cosmetic purposes? And here's a new pair:

GEO Super Size Angel Brown (XCM-214)
I got these lenses from Solution-lens.com. I have brown eyes so I thought I'd pick a color that is slightly lighter than my natural eye color to enhance it. I've always loved GEO's contact lenses too as they have a huge variety to choose from and are also quite comfortable.
Quick Review about Solutions-lens.com:
I first noticed their online store through other bloggers who also got contact lenses from them.
 The look of their website isn't as sleek as some online stores that are also selling contact lenses, but it is relatively easier to navigate. Lenses are segregated by brand, color, and size so it's easy to find the style that you are looking for.
Here are few styles that I'm eyeing.

Geo Tricolor World Series – blue
I don't think I own a pair that doesn't have a black ring yet.

Geo Xtra Love Hearts Pink
Definitely looks unnatural. But it's so pretty. This is just to kill my curiosity on how pink circle lenses look.

Geo Grang Grang Choco
This is a best seller in Japan because they say they really look natural, even up close.
As I'm located in Asia, the lenses were shipped from Bangkok and looked what I got!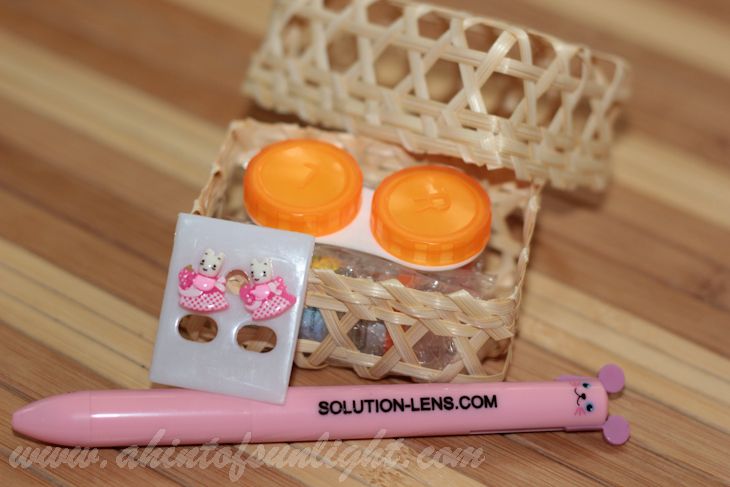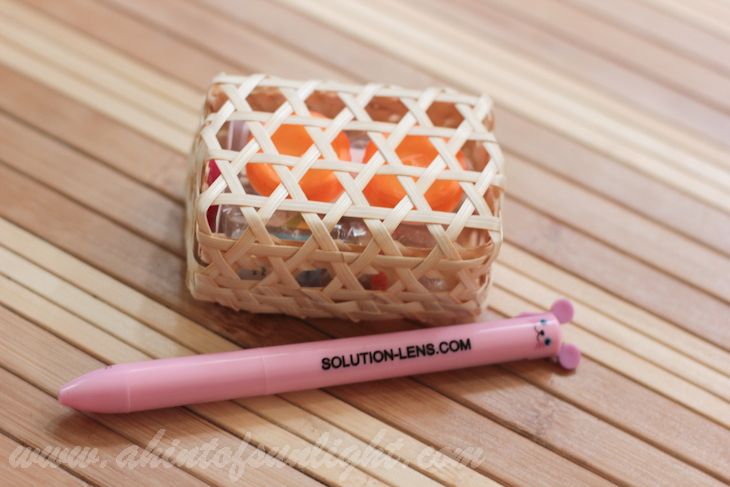 I love love love online shops that always includes something extra for the customer. I still use this pen to this day. It's so cute and it matches my journal.
 GEO Super Size Angel Brown (XCM-214) Review: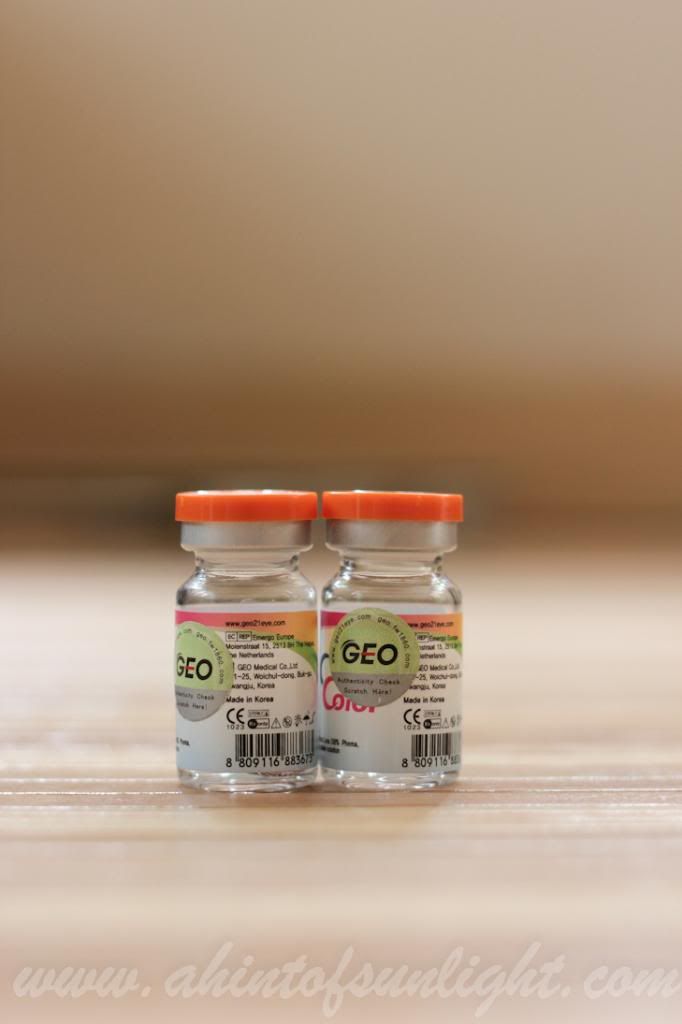 One of the good things about GEO contact lenses is that they come with an authenticity sticker so you can check online if the lenses you got are authentic.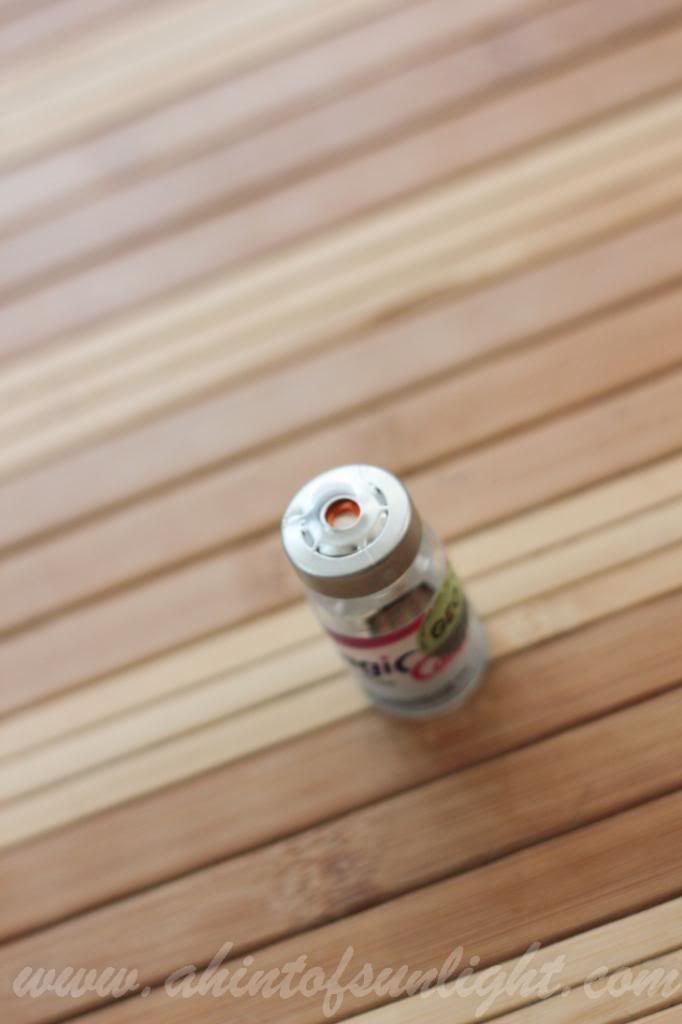 As usual, I had a hard time opening it. I find that GEO contact lenses vials are slightly more difficult to open than other brands. I always have to use a screwdriver.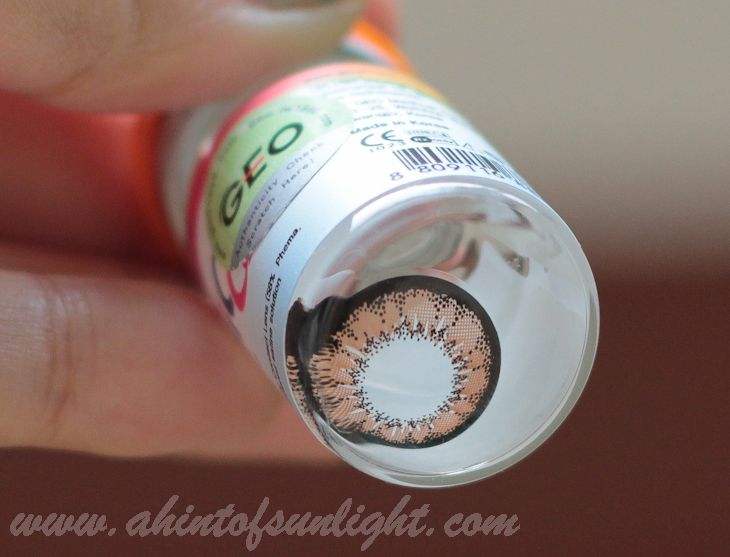 GEO Super Size Angel Brown (XCM-214) is described as a brown and yellow color contact lenses that looks great on both dark and light eye colors.
Specifications:
Diameter: 14.8 mm
Water content: 38-42%
Base curve: 8.6
1 year disposable (recommended use for 4-6 months)
Packaged in sterile buffered saline
FDA and EU approved contact lenses
Ophthalmologists and optical shops certified
Perfect for both dark and light colored eyes
No sugar coating here. Lenses are only recommended to be used for 4-6 months, which sounds like a good number to me. If there's one thing that I like to avoid it's shops that claim that their lenses last for even as long as two years, because that's just plain impossible and deceiving.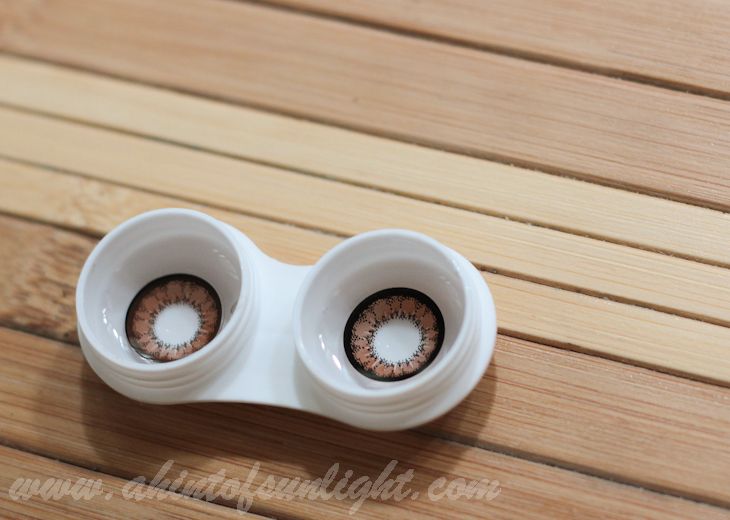 GEO Super Size Angel Brown (XCM-214)

left: with contact lenses | right: no contact lenses


Design and Color:
While still in the vial, the lenses looked like a murky shade of orange and I feared it might look artificial when worn. But as I look at the picture above, I realized that the lenses actually make my eye color darker over-all. I think the color looks pretty natural and looks great on dark eyes.The design adds more dimension to them too. But my sister always comments on how it makes the outline of my irises very defined so she can tell that I'm wearing contact lenses.
Enlargement
It definitely makes my irises look bigger. However, at 14.8mm, it's not the largest diameter you can find out there. Girls who want dolly eyes and cosplayers may want to go for the 15mm-diameter lenses. For me, I wouldn't dare go beyond 14.8mm as I want my lenses to be wearable even on normal days. I think I have semi-hooded, roundish-almond, asian eyes(actually I'm really not sure. But can someone please tell me?) and these 14.8mm is the most that they can accomdate.


natural light


natural light

with flash

with flash
Comfort
Comfortable enough for a circle lens. I find that the larger the diameter of the circle lenses are, the less comfortable they are too. These are ok. I can watch a movie or work on my computer with them on. After a while, I forget I'm wearing lenses. I try not to wear them, or any circle lenses, for more than 6 hours though. Of course I make sure that they are thoroughly clean as well as the case where they are housed in order to avoid eye infection.
Over-all Impression:
I normally try to match my eye-make-up with what circle lenses I'm wearing. Large circle lenses means I have to wear eye-shadow and eyeliner. That said, these are not the circle lenses that I would be wearing for that no-makeup-makeup look or if I have to go to an important meeting. I wouldn't even wear them to church(but I might change my mind on that). These are perfect however whenever I want to glam up a bit. I can also wear them during weekends at the mall and on a dinner date, or any place or occasion actually where I can wear a fair amount of eye-makeup.
Face Shots: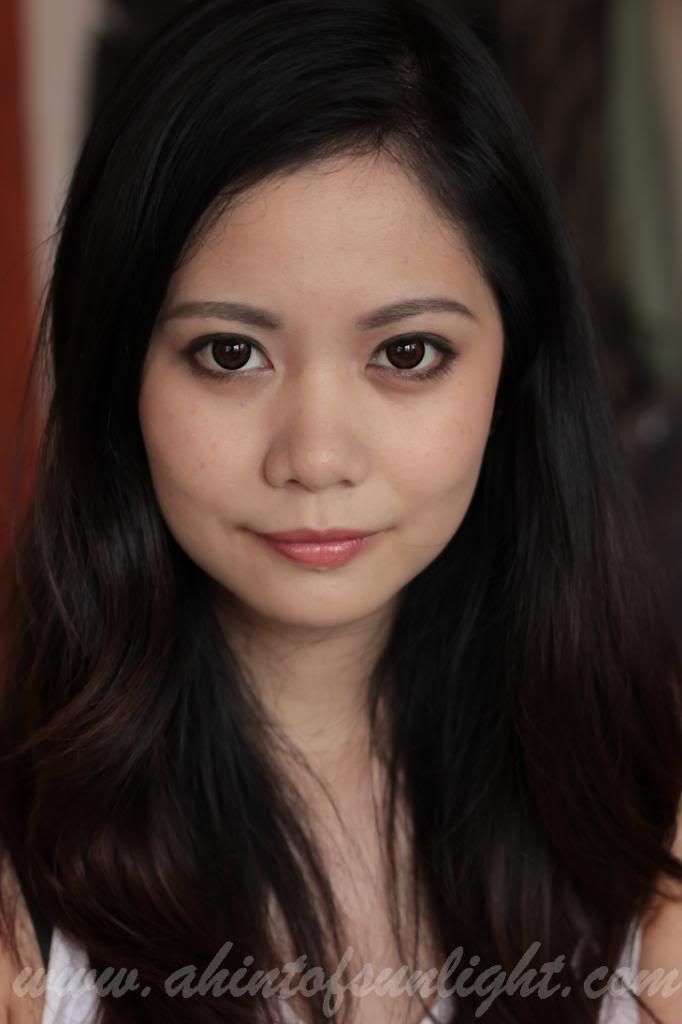 GEO Super Size Angel Brown
During a failed OOTD shoot
From past blog posts: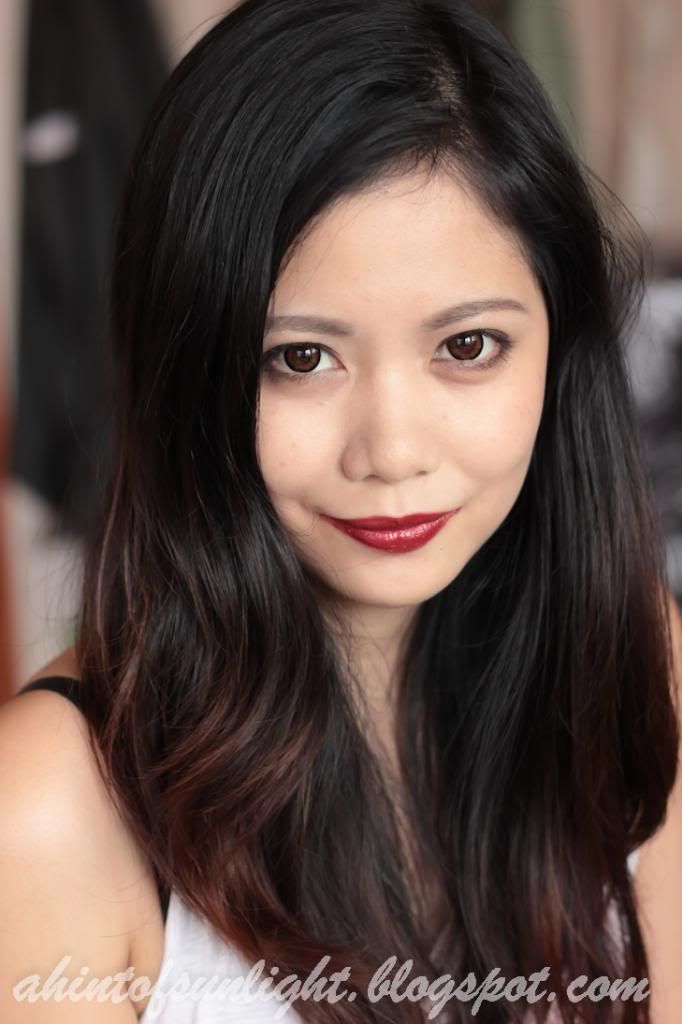 from this post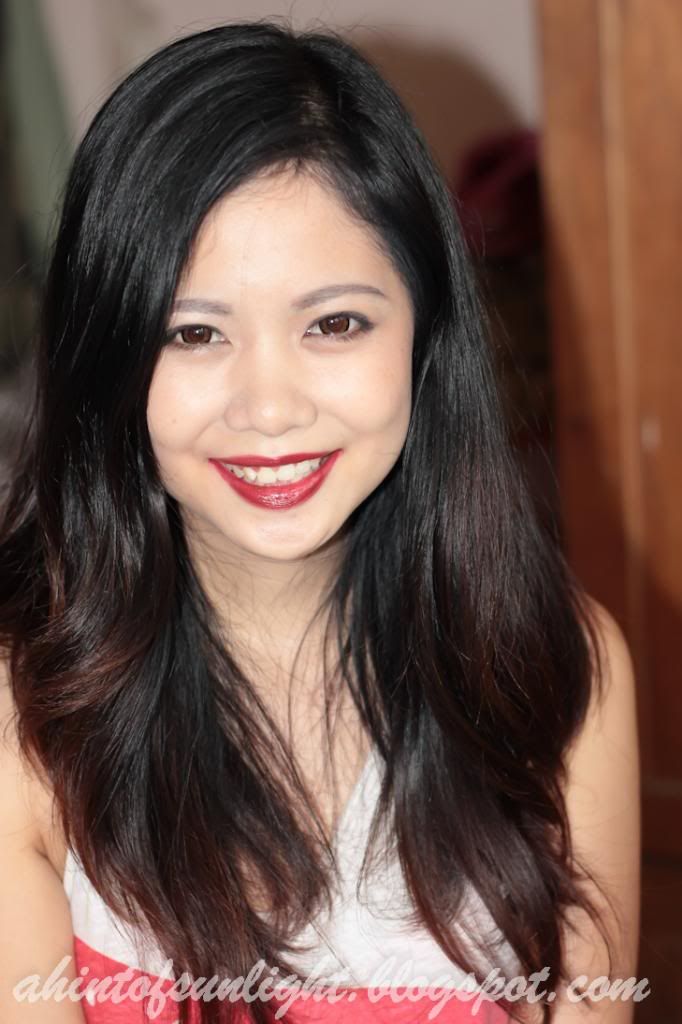 another failed OOTD when we watched Kick-Ass 2
HELP! I NEED YOUR HONEST OPINION
Between family members who are highly critical of my make-up ventures and friends who are very tolerant of my experiments, I don't really get a lot useful feedback.
So I need you to tell me what you honestly think about these contact lenses. Do they look natural enough? Do they simply "enhance" or they make me look like a freak?
If you see me at the mall, would you think that I'm asking for too much attention?
I'd really appreciate your comments!
Thanks for reading!